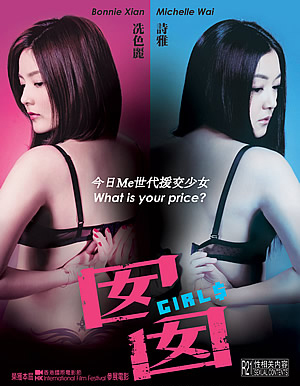 Involvement: One of Slate Takes' founders personally provided assistance to the Art Department of this Hong Kong production.
Director: Kenneth Bi
Cast: Michelle Wai, Bonnie Xian, Venus Wong, Una Lin
Released: September 2010
Synopsis: This film revolves around a group of young girls, who practice compensated dating, a real life social phenomenon among teenage women in Hong Kong. Via internet chat rooms, the girls in the film go on dates with men, which often involve sex, in exchange for money. They each have their own reasons for engaging in this practice: one wants to be able to afford a limited edition luxury handbag, another simply wants to find true love. They eventually come to the realization of the dangers involved, and come to a conscious decision of whether all of this is worth their while.
Tags: Bonnie Xian, compensated dating, girl$, hong kong, kenneth bi, Michelle Wai, teenage prostitution, Una Lin, Venus Wong